Naquasone Solution Injectable
This page contains information on Naquasone Solution Injectable for veterinary use.
The information provided typically includes the following:
Naquasone Solution Injectable Indications
Warnings and cautions for Naquasone Solution Injectable
Direction and dosage information for Naquasone Solution Injectable
Naquasone Solution Injectable
This treatment applies to the following species:
Manufacturer: Merck Animal Health
Trichlormethiazide (usp, 10 Mg/ml)/dexamethasone Acetate (usp, 0.55 Mg/ml) Solution
(equine) (bovine)
Naquasone For Horses
Sterile
Diuretic Glucocorticoid
DIN 00555673
VETERINARY USE ONLY
Structural Formula And Chemistry
Trichlormethiazide (usp)
Molecular Formula for Naquasone
C8H8Cl3N3O4S2
Naquasone For Horses
Molecular Weight
380.65
Chemical Name
2H-1, 2, 4-Benzothiadiazine-7-sulfonamide, 6-chloro-3-(dichloromethyl)-3-, 4-dihydro-, 1.1-dioxide.
Dexamethasone Acetate Usp
Molecular Formula
C24H31FO6•H2O
Molecular Weight
434.50
Chemical Name
Pregna-1, 4-diene-3, 20-dione, 21-(acetyloxy)-9-fluoro-11, 17-dihydroxy-16-methyl-, (11β, 16α)-monohydrate.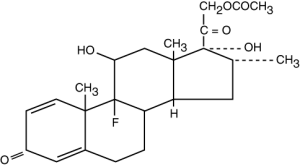 Naquasone For Horses
NAQUASONE injectable solution contains trichlormethiazide USP, and dexamethasone acetate USP. It combines the effective diuretic activity of trichlormethiazide with the specific anti-inflammatory activity of dexamethasone for complementary action in the reduction of physiological inflammatory edematous conditions of the equine, and in the reduction of physiological parturient edema of the mammary gland and associated structures of cattle.
Naquasone For Horses
Composition
Each ml contains trichlormethiazide USP 10 mg, dexamethasone acetate USP 0.55 mg as active ingredients and benzyl alcohol 26.14 mg as a preservative.
Naquasone For Horses
Action
The mechanism of action by which trichlormethiazide affects diuresis in edematous conditions is by an inhibitory effect on the reabsorption of sodium and chloride in the renal tubules, thereby enhancing excretion of sodium, chloride and water, while apparently having a considerably lessened and more temporary effect on the excretion of potassium and bicarbonate.
Naquasone For Horses
The corticoid dexamethasone possesses anti-inflammatory activity. Clinical experience shows that edema is greatly reduced following parenteral treatment with 20 ml of NAQUASONE injectable solution. Effective doses do not cause sodium and fluid retention or potassium loss when used as recommended, but rather enhance the action of the diuretic in NAQUASONE injectable solution by the specific anti-inflammatory effect exerted by corticosteroids.
Buy Naquasone For Horses
Naquasone Solution Injectable Indications: Equine
NAQUASONE injectable solution is indicated for the treatment of inflammatory conditions of the equine.
Bovine
NAQUASONE injectable solution is indicated for the treatment of physiologic parturient edema of the mammary gland and associated structures of cattle.
Naquasone Solution Injectable Dosage And Administration: Equine
0.5 mI/45 kg (100 lb) of body weight intramuscularly twice the first day, then followed by 0.5 mI/45 kg (100 lb) of body weight once daily for two additional days. The extent and duration of treatment will depend upon the severity of the condition and response to medication. Treatment must be administered for at least two days.
Bovine
Prior to, at the time of, or immediately following parturition inject 20 ml (200 mg trichlormethiazide, 10 mg dexamethasone) intramuscularly, and give one bolus (200 mg trichlormethiazide, 5 mg dexamethasone) orally 12 and 36 hours later.The usual case of edema seen under field conditions will generally begin to respond within 24-48 hours after NAQUASONE injectable solution therapy is initiated. Most cases will subside in three to four (3-4) days. If no results are evident in three (3) days, it is recommended that the animal be re-examined.
Naquasone Solution Injectable Cautions
Trichiormethiazide is a potent, benzothiadiazide diuretic agent required in low milligram doses for saluretic effectiveness and should be used accordingly. Electrolyte depletion effects may be seen with over-vigorous therapy and maximum doses should not be used over an extended period of time. Potassium supplements have not generally been necessary with trichlormethiazide and their administration routinely should not be required. Hypochloremia is unlikely with trichlormethiazide at recommended doses. Animals with severe renal function impairments should be checked for hyperkalemia and acidosis, since therapy with benzothiadiazine diuretics like trichlormethiazide may be contraindicated in these patients.
Naquasone For Horses
It must always be kept in mind that dexamethasone is an extremely potent drug with profound physiologic effect. All of the precautions and contraindications for adrenocortical hormones must be followed. Animals receiving the drug should be under close observation.
Administration of corticosteroid-containing products such as NAQUASONE injectable solution may cause premature parturition with subsequent retained placenta. Metritis is also an occasional sequel.
NAQUASONE injectable solution may be administered to animals with acute or chronic bacterial infections provided the infections are controlled with appropriate antibiotic or chemotherapeutic agents. It should be kept in mind that dexamethasone like cortisone, through its anti-inflammatory action, may mask the signs of infection such as elevation of temperature. For this reason, if any questionable findings occur, it may be necessary to temporarily discontinue NAQUASONE injectable solution until a diagnosis is made. Proper antibacterial therapy may then be instituted together with NAQUASONE injectable solution. The possible action of dexamethasone in delaying wound healing should be kept in mind. Clinical studies with NAQUASONE injectable solution in the equine did not suggest any adverse effect.
Do not administer to pregnant mares.
Warnings
Cattle
Treated cattle must not be slaughtered for use in food for at least 21 days after the latest treatment with this drug. Milk taken from treated cattle during treatment and within 48 hours after the latest treatment must not be used as food.
Horses
This drug is not to be administered to horses that are to be slaughtered for use in food. Keep out of reach of children.
Clinical Pharmacology
Trichlormethiazide is an effective diuretic agent of the benzothiadiazine series. Studies in man and experimental animals show that trichlormethiazide causes a favourable pattern of less potassium excretion than chlorothiazide or hydrochlorothiazide. The clinically determined saluretic potency of trichlormethiazide is estimated to be 10 to 20 times that of hydrochlorothiazide and correspondingly 100 to 200 times that of chlorothiazide. Trichlormethiazide induced sodium and chloride excretions tend to be equivalent. The possible occurrence of hypochloremic alkalosis is lessened compared to hydrochlorothiazide.Trichlormethiazide also exhibits a higher sodium-potassium ratio than either hydrochlorothiazide or chlorothiazide, thus tending to decrease the incidence of hypokalemic manifestations.
Dexamethasone is an effective corticosteroid possessing excellent anti-inflammatory activity. Dexamethasone did not cause sodium or water retention in laboratory studies.
The saluretic action of trichlormethiazide together with the anti-inflammatory activity of dexamethasone provide a complementary effect. Edema is relieved through accelerating water transport from the engorged tissue spaces without serious effects on systemic sodium levels or local electrolyte balance.
buy naquasone for sale
Equine
The diuretic effects of varying concentrations and combinations of trichlormethiazide and betamethasone acetate were determined in mares. Trichlormethiazide at 5 mg/45 kg (100 lbs) of body weight was shown to be an effective diuretic. When combined with 0.25 mg of betamethasone/45 kg (100 Ibs), optimal diuresis was noted. Since dexamethasone and betamethasone are essentially bioequivalent, dexamethasone and trichlormethiazide will provide a similar response.Inflammatory edema of the prepuce was induced in geldings. Injectable trichlormethiazide (5 mg) and betamethasone (0.25 mg) were administered/45 kg (100 lbs) of body weight. Comparisons were made with placebo, NAQUASONE (betamethasone and trichlormethiazide) granules and Lasix (furosemide) treated horses. Both trichlormethiazide/betamethasone products were significantly more effective than Lasix or the placebo.